Jewelers of America
19th Annual Affiliate Design Competition
First Place Winner Category II
2009
Alabama Jewelers Association Design Contest Best of Show Winner
2008, 2010, 2011, 2012,
2014, 2016, 2017, 2018.

In 1976 Bill Wismar became an apprentice in the art of jewelry-crafting under his father, using old world integrity and workmanship. Growing up on the coast of Texas influenced his designs, integrating graceful, natural forms, with free-flowing lines. In the spring of 2006, Bill opened his studio and jewelry store in Fairhope, Alabama.
Bill creates wearable jewelry, that is, jewelry with a distinctive design that is fun to wear. He believes that fine jewelry should complement your features, coloring, and style.
Bill envisions his jewelry as miniature sculptures, striving to carry out the design throughout the entire piece. Each jewelry creation is individually fashioned in his Fairhope, Alabama studio. He uses 14 and 18 karat gold, often highlighted with silver and platinum, and accented with gemstones which have been chosen for their uniqueness, fine cut, and color. Unlike much of the mass-produced jewelry that is dominated by lightweight promotional items, Bill's jewelry is made as a heavy piece so it can withstand the rigors of time and be handed down from one generation to another.
Bill is convinced that you will enjoy wearing his jewelry as much as he enjoyed its creation.
=============================================================================
=============================================================================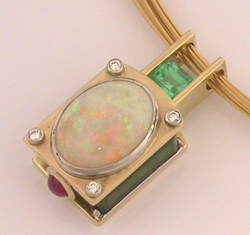 Alabama Jewelry Association Design Competition
Best of Show 2012